ウィークエンドサンシャイン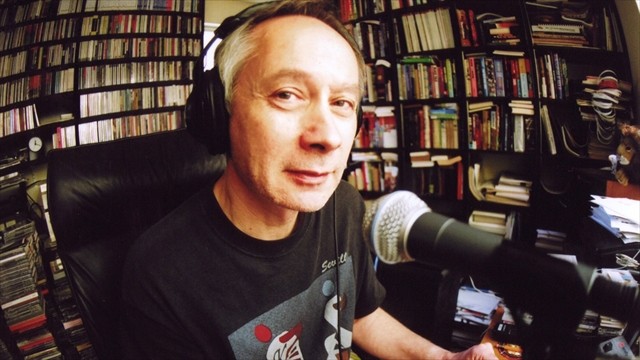 ブロードキャスター、ピーター・バラカンのナビゲートで送るウィークエンド・ミュージックマガジン。独特の嗅覚とこだわりの哲学でセレクトしたグッド・サウンドと、ワールドワイドな音楽情報を伝える。
https://www4.nhk.or.jp/sunshine/
放送日: 2020年 5月30日(土)
放送時間: 午前 7:20~午前9:00(100分)
ピーター・バラカン
THIS WEEK'S PLAYLIST
01. Twenty Flight Rock
Eddie Cochran
C'mon Everybody - The Best of Eddie Cochran
<Liberty TOCP-50118>
02. How Many More Years
Howlin' Wolf
Moanin' In The Moonlight
<Chess UICY-93209>
03. Ye Ke Ye Ke
Mory Kante
Akwaba Beach
<Mercury 32PD-511>
04. Inch' Allah
Mory Kante
Akwaba Beach
<Mercury 32PD-511>
05. Nafiya
Mory Kante
Sabou
<Riverboat TUGCD-1034>
06. Nka Bom
Edikanfo
The Pace Setters
<Glitterbeat GBCD-094>
07. Cocoase
Santrofi
Alewa
<Out Here OH-034>
08. Mariam
Bela Fleck
Throw Down Your Heart: Tales From The Acoustic Planet, Vol.3 - Africa Sessions
<Rounder 11661-0634-2>
09. Bamako
Bela Fleck & Toumani Diabate
The Ripple Effect
<Craft Records CR-00287>
10. Dueling Banjos
Bela Fleck & Toumani Diabate
The Ripple Effect
<Craft Records CR-00287>
11. O bosanske gore snjezne
Damir Imamovic
Singer of Tales
<Wrasse WRASS-364>
12. Thanks For The Dance
Leonard Cohen
Thanks For The Dance
<Columbia 19075978662>
13. Something You Get Through
Willie Nelson
Last Man Standing
<Sony SICP-5785>
14. Amazing Grace
Aubrey Ghent
None But The Righteous: The Masters of Sacred Steel
<Ropeadope TOCP-67066>
https://www4.nhk.or.jp/sunshine/66/
音楽の泉
クラシック音楽の入門番組として1949年に放送を開始、今日まで数多くの名曲を紹介してきました。ゆったりと流れる時間のおともに、「音楽の泉」でクラシック音楽をお楽しみください。
https://www4.nhk.or.jp/P685/
サン・サーンスの交響曲第3番
放送日: 2020年5月31日(日)
放送時間: 午前8時05分~午前8時55分(50分)
解説: 奥田佳道
「交響曲第3番ハ短調作品78「オルガン付き」」
サン・サーンス:作曲
(管弦楽)ボストン交響楽団、(オルガン)ベルイ・ザムコヒアン、(指揮)シャルル・ミュンシュ
(34分14秒)
1959年4月録音
<RCA RCCD-1014>
「序奏とロンド・カプリチオーソ 作品28」
サン・サーンス:作曲
(バイオリン)ジノ・フランチェスカッティ、(管弦楽)ニューヨーク・フィルハーモニック、(指揮)レナード・バーンスタイン
(9分04秒)
<SONY SRCR 9450>
山下達郎の個人コレクションを使って発信される日本最高のオールディーズ・プログラム!!
"エバーグリーンなオールディーズ・ソングから、超絶カルトなレア音源まで"最高の選曲と最高の音質でお届け。
https://www.tfm.co.jp/ssb/
JFN (TOKYO-FM系 全国38局ネット)毎週日曜日 14:00~14:55
https://www.tatsuro.co.jp/sunday/
山下達郎 おうちカラオケ&おうちアカペラで棚からひとつかみ
2020年05月31日プレイリスト
01. ヘロン (HOME KARAOKE)
山下達郎
おうちカラオケ
02. BLOW (HOME KARAOKE)
山下達郎
おうちカラオケ
03. MISTY MAUVE (HOME KARAOKE)
山下達郎
おうちカラオケ
04. MAGIC TOUCH (HOME KARAOKE)
山下達郎
おうちカラオケ
05. BELLA NOTTE (HOME ACAPPELLA)
山下達郎
おうちアカペラ
06. REMEMBER ME BABY (HOME ACAPPELLA)
山下達郎
おうちアカペラ
07. CLOSE YOUR EYES (HOME ACAPPELLA)
山下達郎
おうちアカペラ
Another Country with Ricky Ross
Ricky Ross enters the landscape of Americana and alternative country. Expect to hear both classic and future classics, with Ricky taking a close look at the stories behind the songs
https://www.bbc.co.uk/programmes/b00hh26l
Tue 26 May 2020
20:00
BBC Radio Scotland
https://www.bbc.co.uk/programmes/m000jf56
Ricky Ross introduces you to new and classic Americana & Alternative Country.
Music Played
01. Don't Be Nice To Me
Nick Lowe
Lay It On Me Baby
Yep Roc Records
02. Millionaire
Chris Stapleton
From A Room: Volume 2
Rounder Records
03. Just Circumstance
Whitney Rose
We Still Go To Rodeos
MCG Recordings
04. Maggie
Sarah Jarosz
World On The Ground
Rounder Records
05. Long Life
Waiting for Smith
Long Life
Digital release
06. Why You Been Gone So Long
Jessi Colter
Wanted! The Outlaws: 1976–1996 20th Anniversary
RCA
07. Heaven Help The Child
Bill Callahan
Heaven Help the Child
Saint Cecilia
08. Sunshine
Mickey Newbury
The Best Of Mickey Newbury
09. Good Woman
Maren Morris
GIRL
Columbia Nashville
10. Options Open
Kathleen Edwards
Total Freedom
Dualtone
11. Voices
Joshua Ray Walker
Glad You Made It
State Fair Records
12. Fruits Of My Labor
Lucinda Williams
World Without Tears
Lost Highway
13. When The Way Gets Dark
Lucinda Williams
Good Souls Better Angels
Thirty Tigers
14. Tutti Frutti
Little Richard
That's Rock'n'Roll
EMI
15. Looking For A Feeling
Pam Tillis
Looking for a Feeling
16. LDN City Lights
Blue Rose Code
With Healings Of The Deepest Kind
17. My Old Friend The Blues
Eddi Reader With The Patron Saints Of Imperfection
Mirmama
Compass Records
18. Willie and Nilli
Chuck Prophet
The Land That Time Forgot
Yep Roc Records
19. When You're My Age
Lori McKenna (feat. Hillary Lindsey & Liz Rose)
The Balladeer
Thirty Tigers
20. Saint Cecilia
The Barr Brothers
Travelling Folk
Bruce MacGregor presents Radio Scotland's flagship folk programme and brings you the very best of today's music and song.
https://www.bbc.co.uk/programmes/b00tlyrt
Will Pound live in session
Thu 28 May 2020
20:00
BBC Radio Scotland
https://www.bbc.co.uk/programmes/m000jgvg
Bruce MacGregor is joined by Scottish singer-songwriter, Fiona Kennedy OBE, to hear about her new EP, produced by Calum MacColl.
https://fiona-kennedy.co.uk/music/time-to-fly/
In the second hour, some outstanding music from harmonica wizard Will Pound, live in session from the comfort of his own home in Warwickshire. Will tells us more about his new album, A Day Will Come, which celebrates the traditional music of European countries - his dedication to all Europeans "wherever you come from and whatever you believe in".
https://www.amazon.co.uk/gp/product/B0874X65DW/
Music Played
01. Shining Star
Adam Holmes
Brighter Still
Gogar Records
https://www.amazon.co.uk/Brighter-Still-Adam-Holmes-Embers/dp/B01GGS8HG8/
02. Big Top
Orkestra Del Sol
The Road To Thermosa
Solmusic Recordings
03. Letting Go
Lincoln Hilton
Me and My Chanter
Lincoln Hilton
04. Ive Got A Fever
Naomi Bedford & Paul Simmonds
Ive Got A Fever
Naomi Bedford & Paul Simmonds
05. The Vampire Rabbit Of Newcastle/ Don't Work Too Hard
The Shee
Continuum
Shee Records
06. Change
Kieran Begbie
Change (Single)
Kieran Begbie
07. The Maple Tree (Ill Remember You)
Fiona Kennedy
The Maple Tree (Ill Remember You)
Fiona Kennedy
08. Lady Montgomery's Reel/ Mutt's Favourite/ Up Da Stroods Da Sailor Goes
Session A9
One For The Road
RAJ Records
https://www.amazon.co.uk/One-Road-Session-A9/dp/B00C0B8B08/
09. Riobainean Riomhach / O Mhairi 'S Tu Mo Mhairi
Karen Matheson
Downriver
Vertical Records
10. The Pipe Tunes
Shooglenifty
Venus in Tweeds
Greentrax Recordings
https://www.amazon.co.jp/Venus-Tweeds-Shooglenifty/dp/B0000023ZD/
11. Romania/ Bulgaria: Muzica Peste Granite/ Rachenitsa
Will Pound
BBC Travelling Folk Recording
12. Slovakia/ Slovenia: Sikovny Cardas/ Saltin
Will Pound
BBC Travelling Folk Recording
13. The Early Days
Old Man Luedecke
Domestic Eccentric
True North Records
https://www.amazon.co.uk/Domestic-Eccentric-Old-Man-Luedecke/dp/B00XYXTDOO/
14. Crear
Mhairi Hall
Airs
Mhairi Hall
https://www.amazon.co.uk/Airs-Mhairi-Hall/dp/B07ZW8VZ4M/
15. Naver Bay
Argo Cameron
Toast to the Highlands
Ross Records
https://www.amazon.co.uk/Toast-Highlands-Argo-Cameron/dp/B076838Z9M/
16. Ireland: My Darling Asleep/ Jimmy Ward's/ Stensons No 2
Will Pound
BBC Travelling Folk Recording
17. All Is Not Forgotten
Siobhan Miller
All Is Not Forgotten
18. The Accordionists Despair
Jamie Smith's Mabon
The Space Between
Easy on the Records
The Country Show with Bob Harris
Country music news, reviews and interviews, with Bob Harris
https://www.bbc.co.uk/programmes/b006x527
Steve Earle in session
Thu 21 May 2020
23:00
BBC Radio 2
https://www.bbc.co.uk/programmes/m000jhb5
Join Bob in the country for the best of country, including exclusive music from Kip Moore & Cam, plus the first play of the debut solo single from UK country star Deeanne Dexeter!
Deeanne - who fronted UK country's rising stars Dexeter until their demise in 2018 - releases her new song tomorrow, as does Cam, whille Kip Moore sets us up for his home session next week with the world premiere of a song from his new album "Wild World".
Music Played
01. Summer's Comin'
Clint Black
One Emotion
RCA Records
02. No "I" In Beer
Brad Paisley
Download Single
Arista Nashville
03. If You Could Hear Me Now
The Mammals
Nonet
Humble Abode Music
04. Bad News Blues
Lucinda Williams
Good Souls Better Angels
Thirty Tigers
05. Pretty Baby
The Haden Triplets
The Family Songbook
Trimeter Records
06. Down To The River To Pray
Alison Krauss
O Brother Where Art Thou?
Mercury
07. Sunday Morning Coming Down
Kris Kristofferson
08. Women Like You
Deeanne Dexeter
Download Single
09. To Hell & Back
Maren Morris
Girl
Columbia Nashville
10. Love & Mercy
Golden Smog
Until You Came Along
Rykodisc
11. Mercy Now
Mary Gauthier
Mercy Now
Lost Highway
12. Fire And Flame
Kip Moore
Wild World
Universal Nashville
13. Redwood Tree
Cam
Download Single
RCA Records
Desert Island Discs
Desert Island Discs was created by Roy Plomley in 1942, and the format is simple
Eight tracks, a book and a luxury: what would you take to a desert island? Guests share the soundtrack of their lives
https://www.bbc.co.uk/programmes/b006qnmr
Elizabeth Anionwu
Sun 31 May 2020
11:00
BBC Radio 4
https://www.bbc.co.uk/programmes/m000jn8w
Elizabeth Anionwu is a retired nurse, campaigner and Emeritus Professor of Nursing at the University of West London. A fellow of the Royal College of Nursing, she spent 40 years in the profession and has been named one of the most influential nurses in the history of the NHS. Her career was distinguished by her pioneering work in the understanding of sickle cell disease - bringing better treatment and support to the thousands living with it. She was the first sickle cell and thalassaemia nurse counsellor in the UK.
Her decades of dedication, care and service are a contrast to her own disrupted childhood as a mixed race child born out of wedlock in the 1940s, though it was the kindness of a nurse when she was just five that sparked a nascent interest in what would become her life's work. After leaving school at 16, with seven O-levels, Elizabeth was made a Professor of Nursing in 1998.
She left her day job behind in 2007, but as she puts it "it has not turned out to be a quiet retirement". She spent nine years fundraising and campaigning for a statue to British-Jamaican nurse Mary Seacole. Unveiled in 2016 in the grounds of St Thomas' Hospital, London, the statue is the first in the UK to represent a named black woman. Elizabeth received the DBE in 2017 for services to nursing and the Mary Seacole Statue Appeal.
Presenter: Lauren Laverne
Producer: Cathy Drysdale
Music Played
01. Faith's Song
Amy Wadge
Cold Coffee Music Ltd.
https://www.imdb.com/title/tt6658720/
https://www.amazon.co.uk/Keeping-Faith-1-2-Box-Set/dp/B07SN8TPSD/
02. The Rakes of Mallow, Girl I Left Behind
The Gallowglass Ceili Band
The Legendary Gallowglass Ceili Band - Irish Dancing Music
PMI Ltd.
03. Manman
Leyla McCalla
A Day for the Hunter, A Day for the Prey
Jazz Village
04. A Te,O Cara
Andrea Bocelli
Aria: The Opera Album
Universal Music (UK) Ltd.
05. Missa Bilban
The Jamaican Folk Singers
Authentic Jamaican Folksongs
Hummingbird
06. I Wish I Knew (How It Would Feel To Be Free)
Nina Simone
The Very Best Of Jazz After Dark 2
Sony Music Entertainment UK Ltd.
07. Nnekata
Flavour N'abania
Ijele the Traveller
2nite Entertainment
08. My Girl
Otis Redding
Atlantic Soul Ballads
Warner Music UK Ltd.
Private Passions
Guests from all walks of life discuss their musical loves and hates.
https://www.bbc.co.uk/programmes/b006tnv3
Patricia Wiltshire
Sun 31 May 2020
12:00
BBC Radio 3
https://www.bbc.co.uk/programmes/m000jp9d
Michael Berkeley's guest is the forensic ecologist Professor Patricia Wiltshire, a solver of puzzles who has carved out a whole new discipline within forensic science. Patricia solves crimes with her microscope by meticulous examination of tiny particles such as pollen and spores left at crime scenes or found on the clothing of criminals or on their victims. She says: 'Nature will invariably give up her secrets to those of us who know where to look.'
Patricia tells Michael how the course of her life was changed by a phone call from the police asking her to assist on a murder case. She was able to match the pollen left by the shoes of the murderers in their car to the plants where they had dumped the body of their victim, and thus secured their conviction.
Since then she has worked on nearly 300 cases including the murders of Holly Wells and Jessica Chapman in Soham; the Millie Dowler and Sarah Payne cases; and the Ipswich prostitute murders.
Patricia chooses music by Chopin that she played when she was learning the piano in her 40s, and music by Hasselmans, which expresses her regret at never having learned to play the harp.
We hear Russian ballet music, and a Mozart aria sung by her favourite singer Cecilia Bartoli. Patricia talks movingly about how her grief at the death of her infant daughter allows her to deal with the most distressing aspects of her job.
She describes the happiness she finally found with her second husband at the age of 63 and chooses exuberant flamenco music to celebrate their relationship.
Producer: Jane Greenwood
A Loftus Media production for BBC Radio 3
Music Played
00:00
Frédéric Chopin
Berceuse in D flat major, Op.57
Performer: Arthur Rubinstein
00:00
Joseph Parry
Myfanwy
Choir: Treorchy Male Voice Choir
00:00
Alphonse Hasselmans
La Source
Performer: Judy Loman
00:00
Johann Sebastian Bach
Brandenburg Concerto no.4 (1st mvt: Allegro)
Performer: Wendy Carlos
Music Arranger: Wendy Carlos
00:00
Aram Khachaturian
Adagio for Spartacus and Phrygia (Spartacus)
Orchestra: London Symphony Orchestra
Conductor: Aram Khachaturian
00:00
Traditional Spanish
Dame un Poquito de Agua
Singer: Camarón de la Isla
Performer: Paco de Lucía
00:00
Wolfgang Amadeus Mozart
Voi che Sapete (Le Nozze di Figaro)
Singer: Cecilia Bartoli