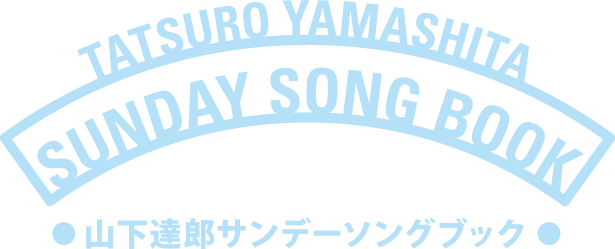 山下達郎の個人コレクションを使って発信される日本最高のオールディーズ・プログラム!!
JFN (TOKYO-FM系 全国38局ネット)毎週日曜日 14:00~14:55
https://www.tatsuro.co.jp/sunday/
山下達郎ライブ特集
2020年02月23日プレイリスト
01. 未来のテーマ (LIVE)
山下達郎
18/10/26
PERFORMANCE 2018
中野サンプラザ
02. DANCER (LIVE)
山下達郎
16/04/20
PERFORMANCE 2015-16
岩手県民会館
03. 君は天然色 (LIVE)
山下達郎
19/09/24
PERFORMANCE 2019
名古屋国際会議場センチュリーホール
04. HOT SHOT (LIVE)
山下達郎
80/05/03
PERFORMANCE 1980
中野サンプラザ
05. REBORN (LIVE)
山下達郎
19/08/10
PERFORMANCE 2019
中野サンプラザ
村上RADIO
https://www.tfm.co.jp/murakamiradio/
村上RADIOで流れた主な曲
01. The New A B C
LH&R
High Flying
ソニー
02. Telephone Song
Astrud Gilberto
イパネマの娘 スタン・ゲッツ・ボサ・ノヴァ・イヤーズ
ユニバーサルミュージック クラシック
03. It's a Pity to Say Good Night
Ann Burton
Some Other Spring
Lob
04. Take Five
Carmen McRae
休日音楽 Sweet And Jazzy
SONY MUSIC JAPAN
05. When You Are Smiling
Billie Holiday
ビリーとレスター ~ジャズ・ストーリー~
SME Records
06. When You Are Smiling
リー・コニッツ
Tranquility
Verve Records
07. Norwegian Wood
Kurt Elling
The Gate
Concord Jazz
08. Early Autumn
Anita O'Day
The Verve Years 1957-1962
Not Now Music
09. Parisian Thoroughfare
Karrin Allyson
From Paris To Ri
Concord Records
10. Light My Fire
Lisa
Embraceable
スパイス オブ ライフ
11. L-O-V-E
Gregory Porter
Nat "King" Cole & Me
Blue Note
12. Loving You
Roland Kirk
The Return Of The 5000 Lb. Man
Warner Bros. Records
Another Country with Ricky Ross
Ricky Ross enters the landscape of Americana and alternative country. Expect to hear both classic and future classics, with Ricky taking a close look at the stories behind the songs
https://www.bbc.co.uk/programmes/b00hh26l
Nashville Music News
Tue 18 Feb 2020
20:00
BBC Radio Scotland
https://www.bbc.co.uk/programmes/m000fg5y
Songwriter and journalist Bill DeMain reports on the latest stories from Music City. Ricky plays new and classic Country and Americana songs from Jason Isbell, Little Big Town, Miranda Lambert and Willie Nelson.
Music Played
01. Be Afraid
Jason Isbell & the 400 Unit
Reunions
Southeastern Records
02. Hurricane
Luke Combs
This One's For You
Columbia Nashville
03. Bluebird
Miranda Lambert
Wildcard
Vanner Records/RCA Records Label Nashville
04. I'll Be The Sad Song
Brandy Clark
Your Life IS A Record
Promo
05. Me And Paul
Willie Nelson
Legend: The Best Of Willie Nelson
Sony/BMG
06. Harvest Time
King of Birds
Eve Of Destruction
07. Someone New
Mara Connor & Langhorne Slim
No Fun
Promo
08. New Freedom Bell
Mike Auldridge, Bill Emerson, Doyle Lawson, Charlie Waller, Bill Yates & The Country Gentlemen
The Award Winning Country Gentlemen
Rebel Records
09. I'm Learning How To Tell Myself The Truth
John Moreland
LP5
Old Omens
10. Believe Me, Angela
Whitney Rose
We Still Go To Rodeos
MCG Recordings
11. Hey 3AM
Olivia Lane
Recorded for The Quay Sessions
12. Some People Do
Old Dominion
Old Dominion
RCA Records Label Nashville
13. Tennessee Waltz
Cowboy Copas
Copasetic: The King & Starday Recordings 1944 - 1960
West Side Records USA
14. My Name Can't Be Mama
The Highwomen
The Highwomen
Elektra
15. Queen Anne's Lace
David Olney
Eye Of The Storm
Rounder Records
16. This Is Far From Over
Bonnie "Prince" Billy
I Made a Place
Drag City
17. Just Another Reason
Watkins Family Hour
Brother Sister
Family Hour Label/Thirty Tigers
18. What's The Drawback?
The Silver Seas
Chateau Revenge!
Royal Plum, Bluewater
19. Nightfall
Little Big Town
Nightfall
Capitol Records Nashville
20. Hometown Girl
Josh Turner
Deep South
MCA Nashville
21. Holding Out For The One
Tenille Townes
Road To The Lemonade Stand
Columbia Nashville
22. Slow Burn
Kacey Musgraves
Golden Hour
MCA Nashville
Desert Island Discs
Desert Island Discs was created by Roy Plomley in 1942, and the format is simple.
Eight tracks, a book and a luxury: what would you take to a desert island? Guests share the soundtrack of their lives.
https://www.bbc.co.uk/programmes/b006qnmr
Melanie C
Sun 23 Feb 2020
11:15
BBC Radio 4
https://www.bbc.co.uk/programmes/m000fnkq
Melanie Chisholm - known as Melanie C - is a singer and songwriter who found global fame as one fifth of the Spice Girls, the most commercially successful female group ever.
Melanie was one of 400 other hopefuls who answered an advertisement to form a new girl band in 1994 - little knowing how her life would be turned upside down by fame and worldwide success. She was given the nickname Sporty Spice and presented what she calls a "gobby' persona to the outside world, but inside she was a shy girl who preferred to stay in the background.
She grew up in Merseyside and as a child she loved performing. At 16 she attended the Doreen Bird College of Arts, aiming for a career in musical theatre. By her early 20s, she was an international star: Spice world was a high-octane life of constant recording and touring and the accompanying press scrutiny contributed to a stressful environment. As the pressure intensified Melanie suffered from eating disorders and in 2000 she was diagnosed with depression. Her recovery was long and painful but she says finally getting a diagnosis enabled her to begin the process of getting better.
When the Spice Girls went their separate ways for a while Melanie began a career as a successful solo artist. In 2009 she played Mrs Johnstone in the West End production of Willy Russell's musical Blood Brothers, earning five star reviews and standing ovations. Recently she has been back on stage with the Spice Girls on their stadium tour.
BOOK CHOICE: Dancing with Demons: The Authorised Biography of Dusty Springfield by Penny Valentine and Vicki Wickham
LUXURY ITEM: A Martin acoustic guitar
CASTAWAY'S FAVOURITE: I Wish by Stevie Wonder
Presenter: Lauren Laverne
Producer: Paula McGinley
Music Played
01. I Wish
Stevie Wonder
Songs In The Key Of Life Vol.1
Tamla
02. The Chain
Fleetwood Mac
Rumours
Warner Music UK Ltd.
03. Prince Charming
Adam and the Ants
Antbox
Columbia
04. Into The Groove
Madonna
Like A Virgin
Sire Warner Bros.
05. Girls & Boys
Blur
Parklife
Food Records
06. everything i wanted
Billie Eilish
Everything I Wanted (single)
Darkroom/Interscope
07. Heaven on Their Minds
Tim Minchin
Unmasked The Platinum Collection
Universal
08. You'll Never Walk Alone
Gerry & the Pacemakers
20 Year Anniversary Album
Angel Air
Private Passions
Guests from all walks of life discuss their musical loves and hates.
https://www.bbc.co.uk/programmes/b006tnv3
Chibundu Onuzo
Sun 23 Feb 2020
12:00
BBC Radio 3
https://www.bbc.co.uk/programmes/m000ffst
Michael Berkeley talks to author Chibundu Onuzo about the challenge of writing novels while studying for her A-levels, and the role of music and faith in her life.
At the age of nineteen Chibundu became the youngest female writer ever to be signed by Faber and Faber. She started writing aged ten while growing up in Lagos, Nigeria and was working on her first novel, 'The Spider King's Daughter', while doing her A levels at boarding school in England. It was published while she was still at university and was shortlisted for a host of prizes – winning a 2013 Betty Trask Award. Her second novel, 'Welcome to Lagos', was published in 2017 to great acclaim.
Chibundu talks to Michael Berkeley about growing up in Lagos, and the challenge of adapting to life at boarding school in Britain. She chooses a carol, 'I Wonder as I Wander', that she sang with her school choir in Winchester Cathedral. The soundtrack to a Nigerian television advert from the 1990s speaks to her about the tensions between Western and traditional values in Nigeria. We hear a miniature by Christian Petzold that will be familiar to anyone who has ever learned the piano, alongside music from Handel and from Dvorak's Symphony No. 9, 'From the New World'.
And, in a special moment for Private Passions, Chibundu is joined in the studio by members of her family to sing a setting of Psalm 23 by her uncle, Bishop Ken Okeke.
Produced by Jane Greenwood.
A Loftus production for BBC Radio 3
Music Played

00:00
Christian Petzold
Minuet in G
Performer: Lang Lang
00:00
George Frideric Handel
Hallelujah Chorus (Messiah)
Choir: Crouch End Festival Chorus
Orchestra: City of Prague Philharmonic Orchestra
Conductor: David Temple
00:00
Trad.
I wonder as I wander
Singer: Gerald Finley
Choir: The Cambridge Singers
Conductor: John Rutter
00:00
Antonín Dvořák
Symphony no.9 in E minor (From the New World)(2nd mvt: Largo)
Orchestra: Chineke! Orchestra
Conductor: Kevin John Edusei
00:00
Fela Kuti
Water no get enemy
Performer: Fela Kuti
00:00
Donaldson/Kahn
My baby just cares for me
Performer: Nina Simone
00:00
Ken Okeke
The Lord is my Shepherd (Psalm 23)
Performer: Chibundu Onuzo