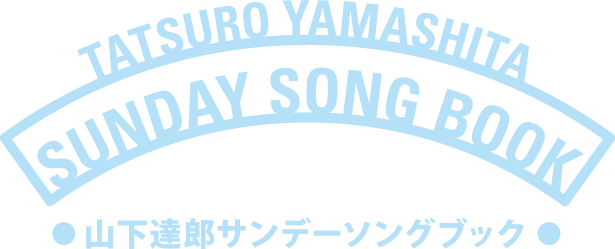 山下達郎の個人コレクションを使って発信される日本最高のオールディーズ・プログラム!!
JFN (TOKYO-FM系 全国38局ネット)毎週日曜日 14:00~14:55
http://www.tatsuro.co.jp/sunday/
新春放談 Part 2(ゲスト:宮治淳一)
2020年01月12日プレイリスト
01. 月への旅路
ザ・リンクス
1967
02. DEVIL SURFER
SCOTT ENGEL
1963
03. SHOTGUN
THE PLAYBOYS
1959
04. CARD SHARK
THE STRANGERS
1963
05. EASY LIVIN'
THE STRANGERS
1965
06. VENUS
BOBBY JASON
1964
07. LET ME DREAM
GEORGIA GIBBS
1966
08. HEAVENLY ANGEL
THE VISCAYNES
1961
THE VISCAYNES & FRIENDS
09. DOWN AND OUT
GEORGE FREEMAN
1963
10. SEPTEMBER RAIN
THE CHARLIE CALELLO SINGERS
1967
11. DON'T LET THE OLD MAN IN
TOBY KEITH
2018
DON'T LET THE OLD MAN IN
Desert Island Discs
Desert Island Discs was created by Roy Plomley in 1942, and the format is simple
Eight tracks, a book and a luxury: what would you take to a desert island? Guests share the soundtrack of their lives
https://www.bbc.co.uk/programmes/b006qnmr
Michael Lewis
Sun 12 Jan 2020
11:15
BBC Radio 4
https://www.bbc.co.uk/programmes/m000d6s1
Michael Lewis is a best-selling non-fiction writer and journalist. He initially worked for an investment bank, and his experiences of Wall Street excess in the 1980s informed his acclaimed first book, Liar's Poker. Three of his later books – Moneyball, The Blind Side and The Big Short – have been adapted into Hollywood feature films.
He was born in New Orleans in 1960, where his father was fond of quoting the family motto: 'Do as little as possible, and that unwillingly, for it is better to receive a light reprimand than perform an arduous task.' After studying at Princeton and the LSE, he joined an American bank in London, and wrote articles about the quirks of the industry under a pseudonym. In spite of his father's opposition, he decided to quit his highly-paid job to become a writer.
In Moneyball, he examined how a struggling baseball team used intensive data analysis to find undervalued players overlooked by richer clubs. The Big Short focused on the sub-prime mortgage crisis, and his most recent book, The Fifth Risk, is about the Trump administration's approach to government.
Michael lives in California with his wife, Tabitha Soren, and their three children.
BOOK CHOICE: A Confederacy of Dunces by John Kennedy Toole
LUXURY ITEM: A photo album
CASTAWAY'S FAVOURITE: Old Days by Chicago
Presenter: Lauren Laverne
Producer: Sarah Taylor
Music Played
01. I Want You Back
The Jackson 5
Jackson 5 Greatest Hits
Tamla Motown
02. Old Days
Chicago
Chicago's Greatest Hits 2
CBS
03. Stairway To Heaven
Led Zeppelin
Led Zeppelin IV (Deluxe Remastered)
Atlantic
04. Barcelona
Freddie Mercury & Montserrat Caballé
Now 1992
Polydor
05. Romeo and Juliet
Dire Straits
Making Movies
Mercury Records Ltd.
06. Losing My Religion
R.E.M.
Out Of Time
Warner Bros.
07. Better Man
Pearl Jam
Vitalogy
Sony Music Entertainment UK Ltd.
08. Rollercoaster
Bleachers
CD Single
RCA
Private Passions
Guests from all walks of life discuss their musical loves and hates.
https://www.bbc.co.uk/programmes/b006tnv3
Helen Cammock
Sun 12 Jan 2020
12:00
BBC Radio 3
https://www.bbc.co.uk/programmes/m000d6yn
Helen Cammock grew up wanting to be a singer, and performed on the folk circuit as a teenager. But then she stopped, and became a social worker for more than ten years. Finally, at the age of 35, she took up photography, went to art school – and she's never looked back. She's known now for her richly-layered video installations, which mix film archive, dance and poetry with current interviews, all woven together with music. She is the joint winner of the 2019 Turner Prize; for the first time in its 35-year history, the Prize was shared between all four artists on the shortlist, at their request.
In Private Passions, she talks to Michael Berkeley about why music is at the heart of all her work. Last year the MaxMara art prize paid for her to spend six months working in Italy, and there she began to explore the subject of lament, and particularly laments sung by women. As part of her performance work, Helen Cammock began to take singing lessons again, and lament, loss, longing, and hopes for a better future, are all captured in the music she chooses. She shares the excitement of discovering little-known women composers of the 17th century Francesca Caccini and Barbara Strozzi. She talks about the troubling incident which persuaded her to give up a career in social work, when she was told to abandon a young woman outside a police station. She remembers the isolation and boredom of growing up in the countryside of Somerset, and the racist abuse her family faced every Saturday when they went shopping together.
Music choices include Jessye Norman singing Purcell's "Dido's Lament"; Glenn Gould humming along to Bach; Nina Simone on the piano; and Shostakovich's Cello Concerto.
A Loftus production for BBC Radio 3
Produced by Elizabeth Burke
Music Played
Barbara Strozzi
Che si puo fare
Performer: Leonardo García Alarcón
Performer: Mariana Flores
Ensemble: Capella Mediterranea
Traditional Danish
Sekstur from Vendsyssel/The Peat Dance
Ensemble: Danish String Quartet
Francesca Caccini
Ciaconna
Ensemble: Cappella di Santa Maria degli Angiolini
Director: Gian Luca Lastraiolo
https://www.amazon.com/Ciaccona/dp/B00BYQD5VK/
Johann Sebastian Bach
Goldberg Variations BWV.988 (Aria & Variations 1 & 2)
Performer: Glenn Gould
Henry Purcell
Thy hand Belinda... When I am laid in earth (Dido and Aeneas)
Singer: Jessye Norman
Dmitry Shostakovich
Cello Concerto no.1 in E flat major (1st mvt: Allegretto)
Performer: Truls Mørk
Orchestra: Oslo Philharmonic Orchestra
Conductor: Vasily Petrenko
Nina Simone
African Mailman
Performer: Nina Simone